Strike With Power And Speed In Our Kickboxing Classes
Are you looking for the best workout in town? Look no further.
At American Professional Martial Arts, our Kickboxing Classes are high-energy fun and they're helping men and women across Boca Raton get in great shape and learn effective striking skills FAST.
PLUS, this program is offered in partnership with the Roufusport MMA Academy - so you can be sure you're taking on the very best in Kickboxing and Self-Defense.
Take on a routine that you actually enjoy. Just fill out the short form to get started today!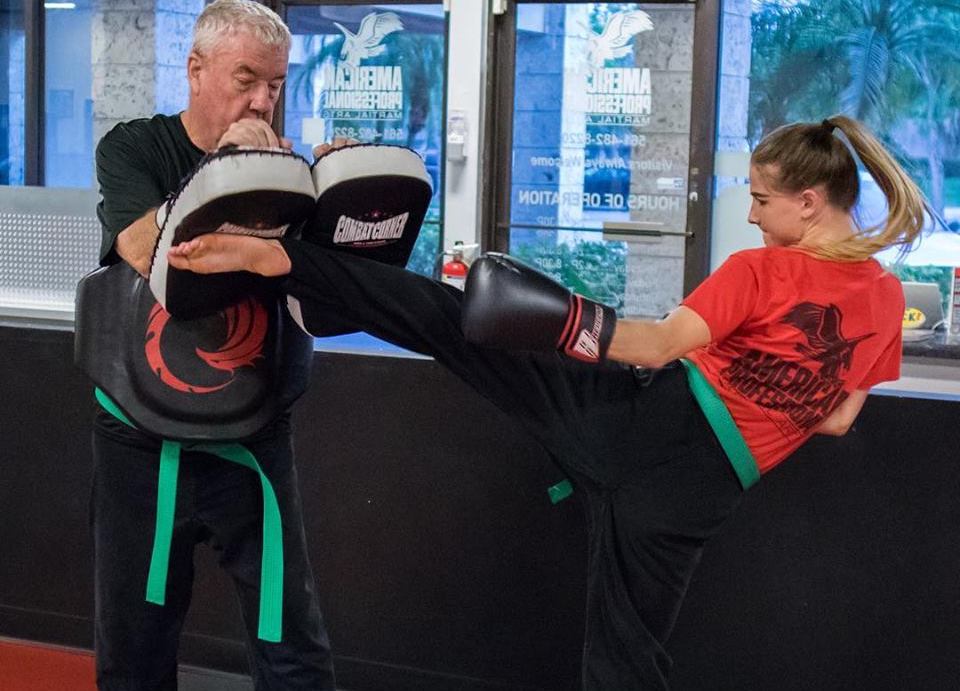 What Can You Expect From Our Kickboxing Classes?
We are proud to train men and women of all experience levels, helping you stay active and excited like never before. Our Kickboxing Classes, designed through the Roufusport Kickboxing Association, blend the best aspects of fitness and self-defense and push you to get the very most out of your workout.
We use everything from heavy bag training and body weight exercises to partner drills and endurance workouts. You'll learn to strike with speed and power using your fists and feet and you'll feel more accomplished than ever before.
Our Kickboxing Classes in Boca Raton are perfect for:
Powerful punches from any position
Head-high kicks and total-body balance
Incredible speed, agility, and strength
Complete self-confidence in everything you do
At American Professional Martial Arts, We're Helping You Get Fit FAST!
Don't waste your time in a boring routine. Our Kickboxing classes are always changing to keep you on your toes. You'll feel challenged each and every week to give it your all. And with the help of our dedicated instructors, you can tailor each workout to meet your unique needs.
Gone are the days when you feared injury or intimidation. We're helping you see real results and train with complete confidence.
Join us in Boca Raton for:
Healthy, sustainable weight loss
Rapid fat burn
Lean muscle gains
Total-body toning
Don't Miss Out! Our Kickboxing Classes In Boca Raton Can Make Your Goals A Reality!
Why work out without a purpose? At American Professional Martial Arts, we're helping you keep your eyes on the prize. You'll build your striking skills one step at a time and walk away feeling fitter than ever before.
Join for a cutting-edge approach to Kickboxing, designed in partnership with Roufusport MMA and the Roufuspot Kickboxing Association!
Just fill out the short form on your screen to join us in Boca Raton!